On your path to better people management, a combination of clear management rituals is one of the most structural steps.

In the overwhelming day-to-day of work, these rituals are regular opportunities to catch up with your team. Each one should follow a specific frequency, having a specific format and with a specific objective. Great team management does happen by chance: it is the result of a comprehensive approach planned in advance. It will free up time, give more autonomy to your team and create a safe environment to discuss and step back regularly.

This is the exact opposite of inconsistent management, an unclear and improvised way of managing, with no preparation or follow up. Giving an unclear direction, leaving room for misunderstandings and not allowing for problems to surface: this is what you want to avoid.

Although there is no one size fits all rituals set up, there is a simple process to help you define and schedule your own management rituals.


Plan your management rituals in advance

The first thing you need to do is to design your management rituals. That is answering the question: what are the rituals I want to put in place with my team to manage day-to-day, facilitate collaboration, drive performance, support development as well as share vision and values?

Some of these rituals can already be set or recommended by the HR team of your company but it's important to start by taking a step back and put down on paper what the year will look like for you and your team. The sooner you plan and block dates the more efficient these rituals will be.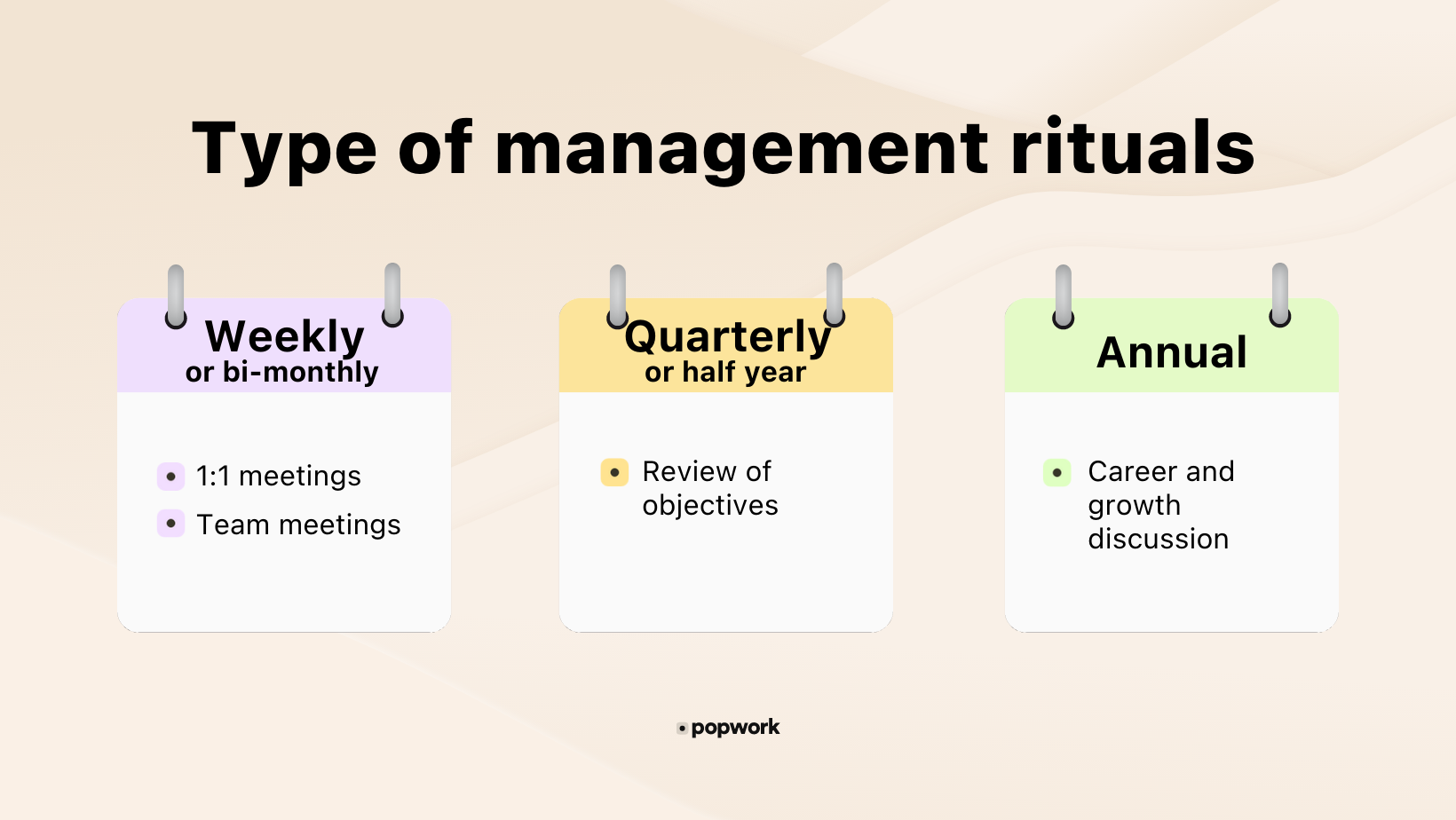 Take time to explain the rituals

Next, and this phase should not be overlooked, you must explain your intentions to your team. Explaining also means making sure that your approach has been understood by everyone and answering the following questions: Why are management rituals important? What will be the benefits for the team members?

If your team understands how important these rituals are to you as a leader, they will invest into them and take them seriously. If they feel you are going through the motions because you are simply following what HR is asking you to do, they will see these rituals as useless and meaningless.

Don't forget that the rituels you put in place with your team define who you are as a manager!
Remain disciplined

Over time, these regular rituals serve as a framework to create a safe space to discuss and share common values. They are also a reflection of your vision of management. If you start canceling these rituals, the message your team will hear is that they are not that important to you (the rituals, or worse, themselves).

Even when you are busy, you should always keep your discipline. Remember that your team members experience your management through these rituals first.


Set the right management rituals

Here are the four essential management rituals that we advise all managers to put in place with their team.
1. Weekly or bi-monthly 1:1 meetings
One-to-one meetings (also known as 1:1 meetings, weekly updates or catch-ups) are the basis of a good relationship between managers and each of their team members.
It is a great way to set the cadence, have regular checkpoints regarding objectives and priorities, have meaningful discussions about successes and challenges. When put in practice, it will become the backbone of your management. A SaaS tool such as Popwork will allow you to identify all the important topics that you need to discuss with each member of staff each week and to support them week after week.
2. Weekly or bi-monthly team meetings
May it be a quick stand-up meeting, a more in-depth roundtable, having a regular team forum is key to align on priorities and foster collaboration. Meeting collectively and regularly will create a sense of belonging among your team over time.
The collective dimension of this ritual will allow you to communicate, align and collaborate within the team. Meeting together can also bring out initiatives or ideas that would not have emerged otherwise!
3. Quarterly or half-year review of objectives
Setting objectives is the key to managing your team throughout the year.
You can use OKR or SMART methodologies, a top-down or bottom-up approach, but in any case these objectives will drive your team during the year. They can be reviewed twice a year, or more if needed.
Regarding objectives setting, your goal should be to achieve mutual buy-in to foster accountability. For reviews, your goal should be to have an in-depth conversation, prepared on both sides.
To make your team progress, make sure you are transparent in the way you define and review their objectives. With a good preparation before the review, your team members will be able to address all their important topics and the roadblocks they may be facing.
4. Annual development review
Every year, employees gain experience and want to continue to develop their skills. Good leaders know how to make their teams grow. A great way to make sure you are doing so is to plan a formal career and growth discussion at least once a year.
Dedicating an hour to these topics will give the opportunity to better understand your team members goals, how they can align with the company's goals and how your team members could grow within the organization. It will also help you better understand the expectations of each member of your team and how you can better support them.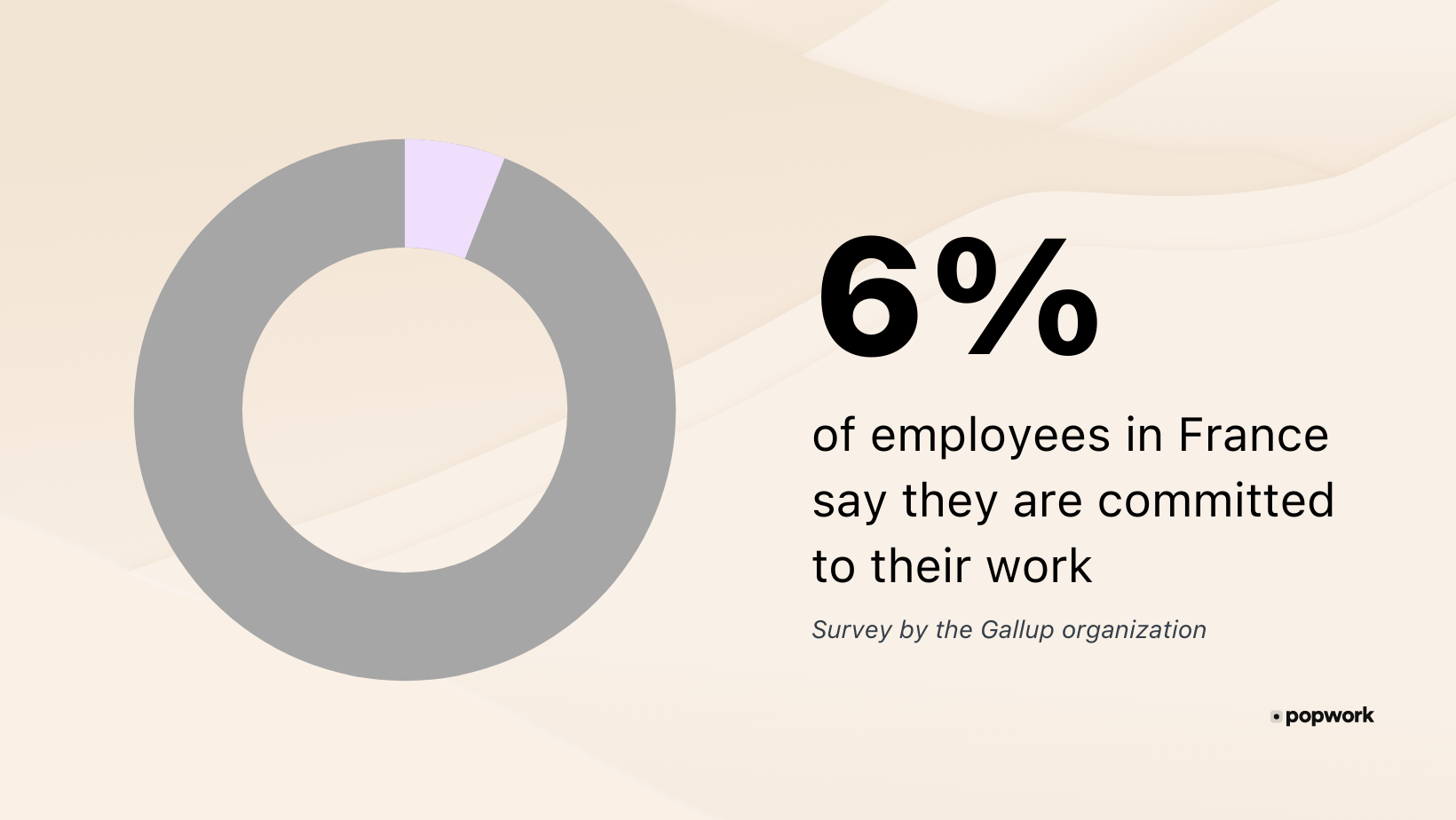 Sharing values and vision
According to a Gallup survey, only 6% of employees in France say they are committed to their work. It is sometimes useful to take a day off, go outside of your usual work environment and step back.
At least once a year, we recommend planning an offsite to reinforce vision, values and relationship. It's also usually a great way to have fun together.
In conclusion
Management rituals planned in advance, over a period of 12 months, lay the foundations for effective management. By combining day-to-day rituals with more exceptional events, you can define your team culture, create a sense of belonging and monitor your team's objectives effectively.