Hi guys,
We're introducing a new, simpler way to navigate in the Popwork app. 🕹️ 🤩
Everything now happens in our left panel: quick access to teams, team members and settings. So simple, it's quite difficult to write more about it.

New navigation menu on Popwork 🕹️

To make things simpler, we're introducing a new navigation system in Popwork: all access to teams, team members, settings and accounts are now done through a dedicated left panel.
The main part of the panel is designed to give you a one-click access to any or your team or team members. Simply click on a team member profile or a team dashboard to access it.
Finally, access to settings has also been made easier, regrouping all account and team settings into a single view.
Simply, go Settings > Profile to edit your account details (profile picture, name, email and language preferences).
Go to Settings > Team to add or remove team members and manage your team rituals.

New toolbar for better workspace navigation 🌀

For a great navigation experience, we needed to go deeper ; this is why we're also rolling out a new toolbar at the top of each team member workspace to enable you to take a number of actions easily.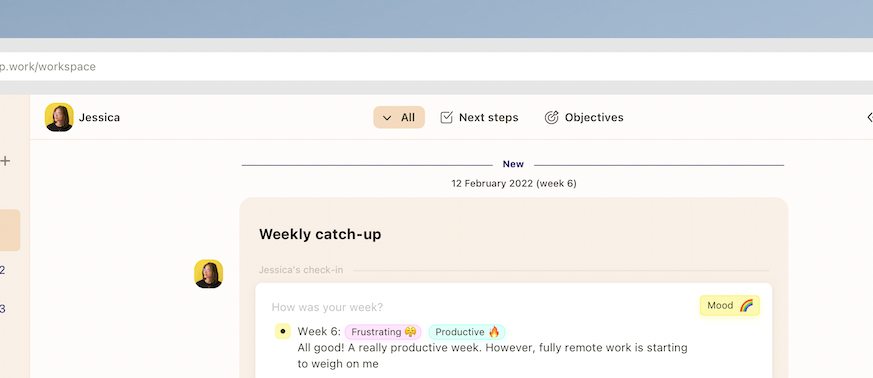 This new toolbar helps you browse faster through check-in feeds, next steps, objectives and private notes.
First, you'll be able to use Filters to select the information you want to visualize for that given team member (such as Mood, Achievements or Challenges for example).
Then, we're introducing two quick view buttons to enable you to see Next steps and Objectives in a single click.
Finally, Private Notes can now be accessed through the top right corner button of your interface.

This also comes with a (much) better navigation experience on mobile.

In the Objectives view, you'll be able to visualize, add, edit and delete objectives. To learn more on how to define great objectives, here's an article we wrote on the topic.
Other improvements:
Redesigned blank avatars to help you scan team members faster
Removed systematic redirection to team Dashboard
Fixed links to comment or check-in answers in email notifications which now point to the right place
Added possibility to opt out from unread check-in reminders and comments email notifications
Fixed private panel on mobile which was preventing from adding new notes on iOS
As always, let us know what you think of these new features. In case you missed our last major release, here's a recap of the new Popwork workflow and key features here.