Is there such a thing as a feminine style of management? Without falling into clichés, it seems that women have a more participative leadership style than men. They have a more pronounced sense of anticipation, empathy, cohesion - values that are essential to today's management based on cooperation and less on competition or hierarchy. The values traditionally attributed to men, such as authority or the ability to impose a vision, are no longer enough to be a good manager.

So, what are the specificities of feminine management? Why are women more and more sought after for management positions? What are the inequalities that, despite progress, remain?


Specific ways women manage
It is true that some leadership qualities are often more visible in the way women manage their teams than in the way men do. However this does not mean that all women have the same management style. Women should not limit themselves to the qualities that are generally attributed to them!

So, what are the strengths that stand out in women managers?
"Having accompanied more than 50 traditional SMEs and as many start-ups in 20 years, I was struck by the fact that women had all the assets of the leader described by John Kotter, the Harvard professor of Leadership, whereas this profile is rare among men. In my opinion, it is in the interest of small structures to feminize their governance," explained Christophe Faurie, a specialist in change management, to the French newspaper L'Express in 2012.  

Often less directive, women have a participative leadership and seem to invest more easily in the values of trust and pedagogy. Because they spend more time communicating and explaining rather than imposing their views, they have a better sense of dialogue, know how to unite people, dedicate time to discuss and ask their team members for their opinion more often. When a team is led by a woman, employees' expectations are more easily identified and potential conflicts are generally dealt with immediately. Women are generally better at encouraging teamwork and developing collective intelligence.

Empathy and benevolence are also two qualities that come up regularly. Far from the "carefree" attitude, empathy is a critical ability, which favours both performance and creativity. Anne Thévenet-Abitbol, Prospective & New Concepts VP at Danone, always makes sure that she is open to others, since it encourages creativity and therefore innovation. Her empathy also enables her to delegate better, as it gives her a good understanding of people. She can then better involve her team in her new ideas, likely to have an impact at the group level.

Finally, women are more naturally confronted with multitasking - often because they are used to juggling their family and professional lives - and are more flexible and responsive. Versatility is one of their main strengths!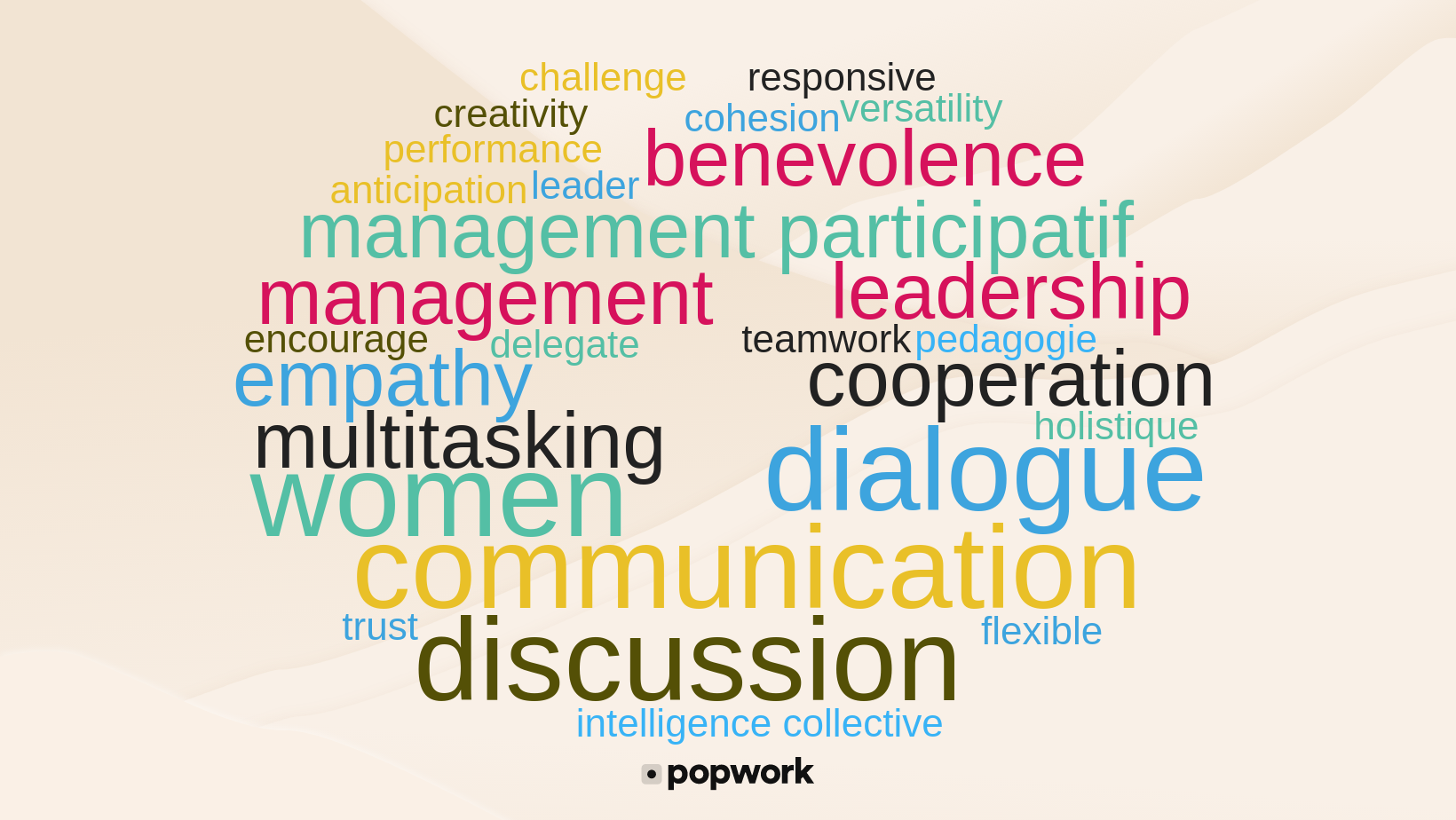 Still a lack of recognition
Even if there is a greater female presence in companies, strong inequalities remain. According to the UN Women, at the global level, women still earn 16% less than men. Moreover, access to management and leadership positions is still difficult for them. According to a study published at the end of May by the Young Presidents' Organization, the Financial Times and the UN Women's HeForShe movement, women are still a minority at the top of companies although the majority (57%) of respondents believe that "their organization is more gender diverse than it was five years ago".

According to another recent study by Heidrick & Struggles, "only 5% of CEOs worldwide are currently women."  Indeed, if gender parity has improved on boards of directors (10 years after the Copé-Zimmermann law), in France, there is only one woman at the head of a CAC40 company, Catherine MacGregor, new CEO of Engie.


However, according to the Women Equity 2020 ranking, companies run by women are "over profitable" compared to those run by men. This profitability is due to several factors, including their high motivation, since there are still too few of them. "And this ability to deconstruct what is expected, to question things, to take nothing for granted helps them in business" explains Dunya Bouhacene, president of Women Equity. Women also seek profitability more quickly, as they have more difficulty accessing financing than men. According to the Sista collective, women-led companies have only captured 2.6% of private equity funding over the past five years.

But let's be optimistic. The health crisis has, among other things, contributed to the acceleration of a new form of management, a proximity management. "I see an increasing awareness about the fact that things need to change," says Xavier Mufraggi, CEO of YPO. According to him, "people realise that the management style of female members brings a more holistic approach to leadership, which is more in line with the new generations".